Kone keys Mitty title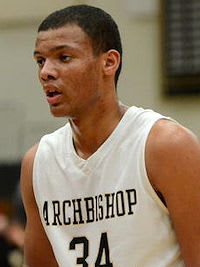 The Archbishop Mitty Monarchs came into the West Catholic Athletic League title game as the clear favorite, however Sacred Heart Cathedral would not make it easy. The Irish were up 17-9 after one quarter and only trailed 28-27 at half, they just would not go away. With the game was tied 56-56, Mitty guard
Matt McAndrews
laid in a finger-roll and the Monarchs would close it out by a score of 62-56.
The 18th ranked team in California, the Monarchs were led on offense by a combination of scoring from forward
Ben Kone
who had 19 points, going 9-11 from the line, JP Rindflesich who went for 14 points, and McAndrews who added 12.
"Just pick up the energy for certain things," said Kone. "I thought on the little run they had we had to face some adversity, and I think we handled it well."
Sacred Heart was in the game for the whole 32 minutes as they were led by outstanding play from guard David Parsons and forward Liam O'Reilly. Parsons went for 18 points on 7-11 shooting and O'Reilly added 17 points, 12 of them in the first half. Evan Davison hit the big shot for the Irish to tie the game at 56, but it just wasn't enough to stop Mitty.
Kone was the story of the game as his size was just too much of a miss-match for Sacred Heart to handle. He got to the free throw line over six times and had many put back lay-ups on the offensive glass.
The loss drops Sacred Heart to a record of 17-10, going 8-7 in league play. With a very average record, the Irish were not even expected to be playing in the WCAL championship. As Mitty swept the regular season series between the two teams, Sacred Heart was not expected to have a chance of winning this game, yet they battled all the way to the buzzer. With a decent record look for them to draw a decent seeding as we head to sections.
As for Mitty, the win elevates them to an outstanding record of 22-4 as they went 12-2 in league. As the Monarchs ranking continues to rise, they will probably attract a very high seeding for sections. With a solid squad and rising star Kone who is only a sophomore, the Monarchs can expect to be good for years to come.