Gruber to exit NAU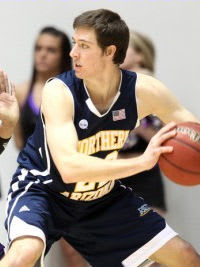 Harbor High's Colin Gruber came off another MVP season in the Santa Cruz Coast Athletic League and earned a scholarship to Big Sky Conference member Northern Arizona University (NAU) for 2011-12. His college life was set. Then a particularly ugly side of reality appeared and now Gruber is back in town and reassessing his future.
What did he encounter? Try a 5-24, 1-15 season, one in which his coach Mike Adras was fired in December because he forced players to falsify both practice time logs, and per diem expense sheets and also threatened retaliation to anyone, assistant coach or player, who cooperated in any investigations.
Then Dave Brown, the team's radio color announcer and a former coach for the NAU women's team, but 22 years ago, was appointed interim coach for the season.
So what was the 6-foot-3 Gruber able to accomplish? 27 games played, 10 starts (almost all prior to the departure of Adras), 3.9 points and 1.0 rebounds a contest, scoring in double figures in four games with a team-best 13 against both Brigham Young and Arizona and a 15 point effort at Loyola Marymount. plus 14 versus San Francisco.
So yes, Gruber's first season didn't exactly conclude with solemn words spouted by Jim Nance amid an accompanying crescendo of inspiring music.
His plan? It's to play the 2012-2013 season for Coach Tony Marcopulos at Cabrillo College, ready to re-demonstrate the skills that produced 26.6 points, 11.3 rebounds, 2.1 assists and 2.8 steals a game as a high school senior. For a player who brings to the court a wingspan of someone 6-foot-7 plus a high basketball IQ (the son of a coach), Gruber felt the need to play for a coach he could trust and to re-establish his talent bonafides.
"I'm going to spend a year playing for Tony Marcopulos so I can get bigger, stronger and better," he explained.
Gruber's reason for his departure? "I have a bitter taste in my mouth and Flagstaff isn't the atmosphere and environment I want to be in."
As expected, he had advice to offer when queried about his learning experience. "Definitely take your time, don't rush things. Also, do your research and ask questions from as many people as you can."
Granted, so much of what was eventually uncovered at NAU was impossible to forsee. But information gathering is such a critical component and what is 'learned' on one weekend visit should be just the tip of the intelligence iceberg upon which such a critical decision is based.