Diaz headed for Dominican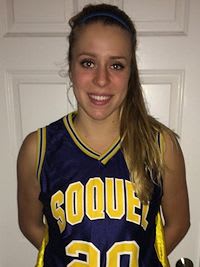 In the Santa Cruz Coast Athletic League (SCCAL) for the past four seasons, the Soquel program has been a mainstay as they have had 43 league wins during that time. A big reason for the basketball success for the Lady Knights has been due to their star guard,
Natalie Diaz
. As a junior last season, she helped Soquel go 19-10 while averaging 12 points, 7.1 rebounds, and 2 assists.
Diaz will be going into her fourth year of varsity high school basketball as she has been playing competitively for over eleven years. Her 5-foot-11 and 155 pound size has garnered her much attention that she decided last month to commit to Dominican University in San Rafael. Second-year Soquel head coach Kananiomalama Thomas says about Diaz's decision, "The coaching staff is great. They are focused on their student athletes as students first and then athletes. It is a smaller school in a beautiful area. Natalie picked her school not purely on the basketball program but on the academics and campus itself. She knows she can't play basketball forever and wanted to make sure she got a great education first. Playing basketball on a full scholarship is just the result and a perk of the thousands of hours of practice she has dedicated herself to, to achieve a dream of hers."
Diaz characterizes herself as being a slasher as she is comfortable cutting in the paint to get her offensive looks. She also has the physical size to post up, but is also adept at shooting from beyond the arc. Her long arms and plus jumping abilities makes her turn around jumper effective while she is also able to affect opposing offenses with her blocking ability.
Coach Thomas continues, "Natalie is an incredible athlete. There are not many players that can match up to her speed and strength. Like Elena Delle Donne, she is quicker and more agile than most posts that attempt to guard her. If you try to play her on the perimeter, she can slice to the basket and finish over smaller guards. She is an incredible rebounder with a relentless pursuit of the basketball. She will not stop until the ball goes through the hoop. Recently, she has expanded her game to become more consistent from the 3 point line which is just going to make her more deadly this season and in college."
As stated by Coach Thomas, Diaz was looking for a balance in academics and athletics in college. Diaz has 3.62 GPA as her best subject is either Biology or Spanish while she is exploring to major in Physical Therapy, Communications, or Marine Biology. Before making the verbal commitment to Domincan, Diaz also had offers from Cal Poly Pomona (Danelle Bishop), Cal State San Marcos (Crystal Harris), and Sonoma State (Coach Rigby) while Cal State LA (Cassandra Renno), Cal State Eastbay (Kelsie Kruger), Portland University (Brianna Chambers), Northern Colorado (Anna Bateman), and Sacramento State (Coach Baxter) were still communicating.
Coach Thomas opines about Diaz's potential contribution at the college level. "Natalie will excel at the next level. Her versatility as an athlete will allow her to step into almost any position that Dominican Coach LaKose will challenge her with. The PacWest is an excellent and competitive conference. I played for Hawaii Pacific University several years ago and know that those Hawaii schools will keep her on her toes. Though what will make her such a valuable asset to Dominican is her work ethic and coach-ability. She still refuses to leave practice until she's made 10 free throws in a row. Dominican has scored themselves a competitor, who loves playing basketball and who will work and fill whatever role her team needs her to fill to be successful."
During her high school summers, Diaz has competed with the Palo Alto Midnight program. She works heavily on her ball handling as she is a tall guard who plays primarily the post during the school season. Diaz is looking to improve her off hand usage and ball handling during the upcoming season while helping her team win league and CCS. She also competes in track and field in the 4x100, 4x400, high jump, 200 meter, and 400 meter events but will be basketball only at college.
Coach Thomas sums up her 2015 hardcourt leader, "It's hard to put into words what makes a student athlete special. Natalie is starting her senior season 314 points shy of 1000 Soquel points, at which point, she'll join other great Soquel ladies who went on to have successful college careers. She always has a smile on her face, even during a 6AM practice. She is super humble about her abilities, almost to a fault. She has the most unique collection of crazy socks. She is a student of the game, who consistently strives to never stop learning how to improve herself and her team. Her passion for the game and her team is exemplified in her constant hustle, servant leadership, and relentless pursuit of excellence. What will give her the ability to thrive on the court and off is her mistake response. Everyone makes mistakes, it is a part of life and especially basketball. What makes special athletes truly stand a part from the rest is not their talent but their ability to respond and animate after a mistake. She plays to make her mistakes irrelevant. She chooses to give life and energy to the situation and her team. Like other great team leaders, her teammates play better when she is with them."
Soquel is a sleepy coastal town in Santa Cruz County. But watch for Diaz to put her Lady Knights back in the basketball limelight in Soquel, Calif.