Pirates upset Berkeley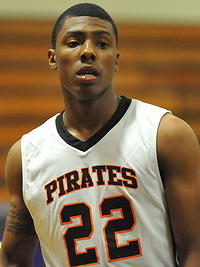 The 10th seeded Pittsburg Pirates traveled to take on the 7th seeded Berkeley Yellowjackets, in a matchup that they were considered a decent underdog. The Pirates hung in the game throughout as they were able to force overtime at a score of 61-61. Pittsburg was led by forwards Daniel Gonzales and DJ Kennedy to an overtime victory of 74-69, which would send the Pirates to their first second round game since 2009.
Pittsburg jumped out to an early lead at the end of the first, 16-13, behind Gonzales and Kennedy who had a combined 17 points in the 1st half. Gonzales would go on to finish with 21 points, including five three-pointers and Kennedy contributed 19.
The Yellowjackets would get the final say in the first half however, as Berkeley guard Casey Roquemore dropped in a lay-up at the half time buzzer to give his team the 31-29 lead. Roquemore would go on to score 18.
The Yellowjackets would come out of the half with the momentum, as they went up at the end of the 3rd quarter, by a score of 48-40. The momentum would be with the Pirates the rest of the way, because Berkeley lost forward Adrian Rico to a shoulder injury, he would't return. Pittsburg stormed back to send the game into overtime, tied 61-61. Great shooting, combined with solid free throw shooting would give Pittsburg the win in overtime, 74-69.
For Berkeley, the loss ends a very promising season early, as the Yellowjackets finish with a record of 22-5, going 6-4 in league. They came into the game as the favorite and the higher seed, so Berkeley was at least expecting to get out of the first round. Even with the post season ending in the first round, the Yellowjackets should be proud of their regular season performance.
The win improves the Pirates record to 22-5, as they went 8-2 in league play. It is also Pittsburg's first playoff win since 2009 and it sends them to play a very tough number two seed in San Ramon. The Pirates head coach Ryan Lloyd actually played for San Ramon during his high school years, so if they were able to pull the upset it would be an even better story line.
"Commitment, dedication, responsibility, and accountability are the traits that got us here," said Pittsburg head coach Ryan Lloyd.